News
All these items of news are displayed in publication date order with the most recent at the top...
It is with great sadness that I have to report that Breta Miller passed away peacefully last week. Breta had been poorly for some time and last season could only manage short roll up's with Michael, weekly, on Sundays, Wednesdays and Fridays.
Breta and Michael have been playing bowls at Ringwood for some 18 years and Breta was very active playing in league teams, friendlies and competitions. She also played Short Mat at Verwood and also enjoyed and was very good at Ballroom and Country & Western Dancing.
Breta's funeral will take place at 11.00am on Friday 11th February at Bournemouth Crematorium.
All are welcome to attend the funeral but please, NO Suits and Black Ties, just casual dress or club shirts.
There will be no wake and it is family only after the funeral.
Our deep condolences, thoughts and best wishes go out to Michael, his family and friends.
Breta will be sorely missed by our members.
---
---
Presentation Night Back At The
> >
After a few years away at the Ringwood Conservative Club a good turnout of 52 members had a very enjoyable time, on Friday evening, at the Elm Tree Public House.
Picture quizzes were puzzled over during the 2 course meal of either Fish & Chips, Pie & Mash or Veggie Quiche, followed by either Belgian Waffle or Crumble & Custard.
Presentation of this years Trophies, by our President Frank Senior and Competition Secretary Doug Jones, took place between the traditional entertainment of the Main Quiz, Card Bingo, Higher or Lower and the Music Quiz. The entertainment drew to a close , at the end of the evening, with the draw for the well stocked raffle prizes.
You can view the gallery of Trophy recipients by clicking on the picture above.
This event takes much planning and organisation and it is with great thanks to those mentioned below whose efforts made for a successful and enjoyable evening.
Debbie and Frank Senior for organising and running the event on the night.
Doug Jones for organising and presenting the Trophies.
Paul Wright and daughter Gemma for devising and running the Quizzes and Higher & Lower.
Den Newham for organising the equipment for Card Bingo and Higher & Lower.
Peter Smith for stepping in to help with Card Bingo.
Frank Senior for running the Music Quiz.
Jenny Blake for helping to shop for the raffle, prepare the raffle and then carry the prizes several times.
Well Done and Thank You, All.
---
Following the closure of the green this coming Sunday, volunteers are needed for Ditch Clearing the following day, Monday 27th September from 9.00am.
If you can come along and help or have any queries, please contact Dave Lewis on 07941 159465
---
On Wednesday 15th September, the Autumn Triples Final was eagerly contested. In this closely fought match, Frank Senior, Chris Pentelow and Doug Dalrymple took the lead for the first time, by one shot, after 12 ends. Alan Boyt, Chris Dalrymple and Brian Harrington then fought back to take the last four ends to win by 18 - 11. Congratulations and well played to all.
---------------------------------
On Friday 17th September, Helen Blackiston, Jenny Blake, Chris Pentelow and Debbie Senior made up a rink, playing for West Hampshire, in the Dolly Gore competition played between the four divisions of Hampshire. In the morning, West Hampshire beat North Hampshire with the Ringwood Ladies rink winning 19 - 18. West then played South but despite our Ringwood Ladies rink winning their rink 20 - 11, South won over all and took the cup for first place with West taking the cup for second place. East were third and North won the wooden bowl for fourth.
---------------------------------
On Saturday 18th September, Derick Faulkner, Derrick Fulker and Steve Van Wyk played a trio from Alexandra Bowling & Social Club of Portsmouth in a Semi Final of the Bowls Hampshire Two Wood Benevolent Triples competition. Played at Southbourne Bowling Club the match was closely fought but Alexandra came out winners by 18 - 8, to progress to the Final.
---------------------------------
Also on Saturday, Mark Brocklebank and Dan Cookman played for Hampshire versus Sussex in the Home Counties Final at Egham in Surrey. Sadly, Hampshire lost by 3 shots. Mark's rink lost by 1 shot and Dan's rink were all square.
---------------------------------
Following the Great Success of the two New Forest Bowling Association Final's Days, held at Ringwood, the following letter was presented to the Ladies and is posted on the Club Noticeboard.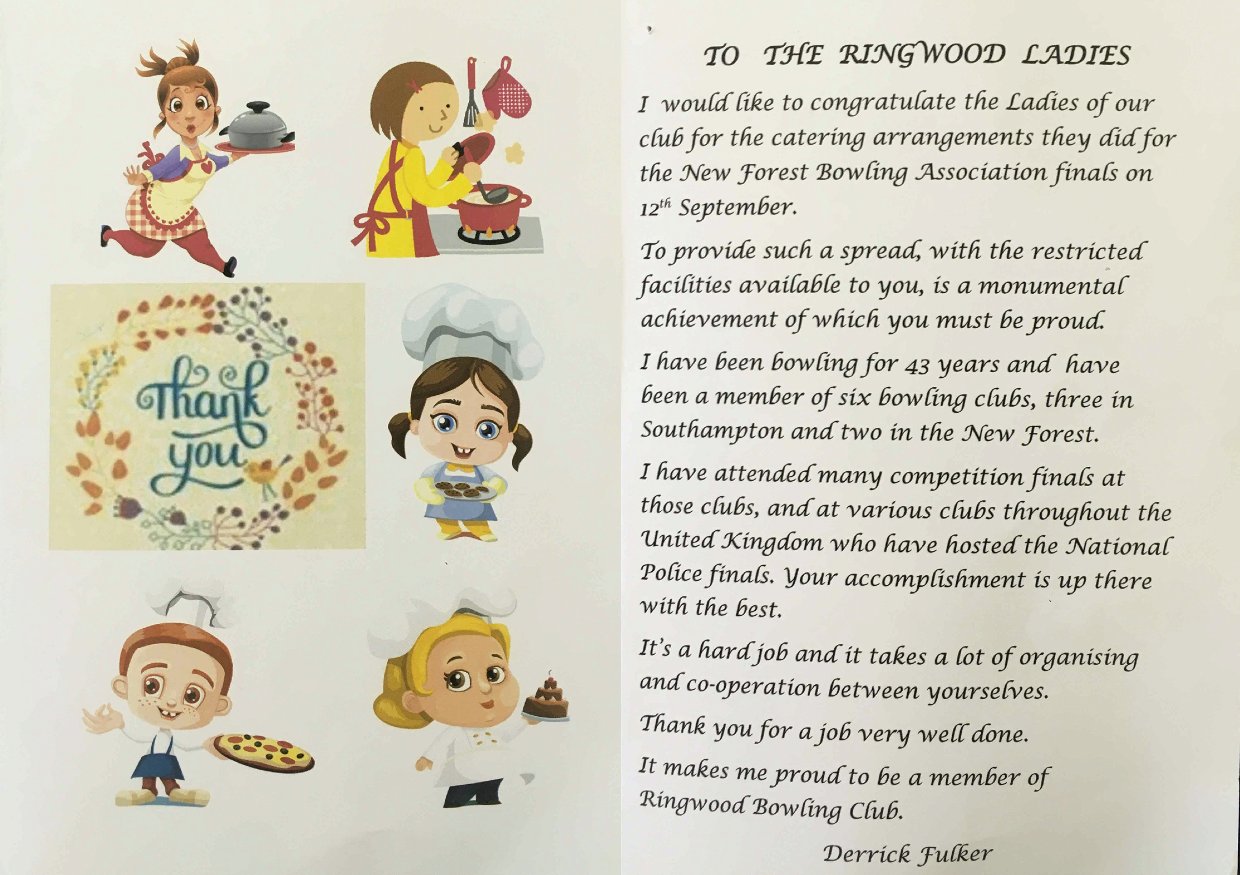 The main facets of the success of both events was down to the fabulous green presented by Paul and Mel, the superb catering by Helen Blackiston, Audrey Merrington, Debbie Senior, Anne Taylor & Jenny Blake and the all day bar by Brian Harrington. Also, a big thank you to all the other helpers who were instrumental in setting up before, helping during and taking down after the events.
A BIG, All-ROUND, WELL DONE TO RINGWOOD BOWLING CLUB
---------------------------------
Events Coming Up
Thursday 23rd September. Management Committee Meeting. 6.00pm.
Sunday 26th September. The Green closes at 5.30pm.
Monday 27th September. Short Mat starts. Setting Up from 9.00am.
Saturday 16th October. Ladies Section AGM. 10.00am.
Friday 22nd October. Presentation & Social Evening at The Elm Tree. 6.30pm for 7.00pm. NB. Monies to Debbie Senior by 15th October.
Friday 5th November. Club Annual General Meeting. 6.30pm for 7.00pm start.
Sunday 7th November. NFBA Presentation Lunch. South Lawn Country House Hotel, Lymington. 12.30pm for 1.00pm.
Monday 8th November. NFBA AGM. Brockenhurst Bowling Club.
Monday 15th November. Bingo Night, including Soup and Roll. 7.00pm start.
This is the last regular Weekly Bulletin of the year but keep looking out for News Items and email notifications throughout the rest of the year and winter. See you next season if not before.
---
More good things to report on this week, in chronological order.
With Mel Barrett back to full fitness, the remaining Club Singles Finals were played this week.
On Tuesday Mel came up against Dan Cookman who was in fine form for the Men's Singles. Congratulations to Dan who is this years Men's Club Champion, winning by 22 shots to 9.
The following day, Mel came up against Derrick Fulker in the Club Handicap Singles Final. After being behind for most of the game, Mel rallied in the last 3 of he 24 ends to take the title by 21 shots to 16. Congratulations to Mel.
The last Club Final to be resolved was played on the Thursday. Congratulations to Jenny Blake and Ted Huggins, who led all the way against Maureen Huggins and Mark Brocklebank, to win the Two Wood Pairs by 18 shots to 9.
---------------------------------
The second NFBA event, League Trophies Finals Day, was held at Ringwood on Saturday.
Congratulations and well done to our Men's 1st Team who lifted the Presidents Trophy again with a convincing 59 shot win over Braeside. Winning three rinks, the final shots score was 96 - 37.
You can view the photo's of the winners and runners up, with their trophies, from both of the NFBA Finals events, held at Ringwood, by clicking HERE. (scroll up and down to view all).
--------------------------------
On Sunday morning the, all Ringwood, B&DBA Triples Final took place at Meyrick Park. Congratulations and well played to Ted Huggins, Richard Thomas & Dan Cookman who defeated Geoff Bell, Derick Faulkner & Derrick Fulker by 25 - 11.
---------------------------------
Coming Up Next Week
Wednesday 15th September. Autumn Triples Final. F.Senior, C.Pentelow, D.Dalrymple versus A.Boyt, S.Wyatt or C.Dalrymple (sub), B.Harrington. 2.00pm start.
Saturday 18th September. Bowls Hampshire Two Wood Triples Final at Southbourne Bowling Club. 1.00pm Semi Finals. 3.00pm Final. (Featuring Alexandra versus Ringwood - Derick Faulkner, Derrick Fulker and Steve Van Wyk.
---
Lots of good things to reflect on this week which are reported upon in chronological order.
Congratulations to Frank Senior, Chris Pentelow, Doug Dalrymple and Alan Boyt, Sue Wyatt or Chris Dalrymple (sub), Brian Harrington who have reached the Autumn Triples Final which will be played on Wednesday 15th September at 2.00pm.
---------------------------------
Congratulations and well done to our members who played at Leamington Spa in the Bowls England National Finals, giving great kudos to both themselves and the club. Details follow.
Pete Ward. Progressed in the Men's Two Bowl Singles Championship, playing three matches, to reach the Quarter Final stage where he lost 16 -11 to Edward Morris of Essex County.
Pete Ward and Sharon Varndell. Progressed, over two days, in the Mixed Pairs Competition, to reach the Semi Final stage where they lost 20 - 5 to Edward Morris & Elaine Score from Essex County South.
Lee Croad and Steven Hockham (Southbourne). In the Men's Senior Pairs, lost 20 - 16 in the First Round to Jerry Rumball & Philip Russell (Hertfordshire).
---------------------------------
On Friday, NFWBA Finals Day 1 at Lymington Bowling Club, Helen Blackiston, Chris Dalrymple and Jenny Blake sadly lost in the Jubilee Triples Final to Waterside, 18 - 16.
---------------------------------
Congratulations and well done to the Men's 1st team who came through with a late rally to end the B&DBA League season in Top position in section 1 of the afternoon triples. Details below.
---------------------------------
Congratulations and well done to our members who played in the NFBA Competition Finals Day held at Ringwood on Sunday. Details follow.
Triples. Neil Richmond, Dan Cookman and Steve Van Wyk lost 19 - 9 to Andy Wilson, Roly Ford and Alan Attenborough of Fordingbridge.
Fours. Derrick Fulker, Derick Faulkner, Allan Mason and Geoff Bell won 32 - 16 against Tim Winter, Dave Howell, Karen Winter and Eric Milson of New Milton.
Pairs. In this all Ringwood final, Pete Ward and Mike Whelan won 19 - 15 against Mark Brocklebank and Mel Barrett.
Champion of Champions. Lee Croad came through with a late rally to win 21 - 19 against Steve Burfield of New Milton.
---------------------------------
Congratulations and Well Done to our Ladies who played on Monday's NFWBA Finals Day 2 at Lymington Bowling Club.
Championship Pairs. Chris Pentelow and Helen Blackiston won 19 - 13 versus Gladys Pegram and Sharon Varndell (Braeside).
Cox's Two Wood Pairs. In this all Ringwood Final, Debbie Senior and Jenny Blake won 19 - 11 against Sue Wyatt and Mavis Hammond.
Our County 4 players, Helen, Jenny, Chris Pentelow and Debbie who got through to Banister Park this year have been invited back there to compete in the Dolly Gore with teams competing from North,South,West and East Hampshire on the 17th September.
---------------------------------
Results from Last Week
Click on the coloured Team Names below to see the latest results and League/Cup positions.
Saturday 4th September . B&DBA Triples 1st Team at Home versus Boscombe Cliff. This great win secured top position in section 1 to end the season. Rinks 3 - 1. Shots 67 - 59. Points 12 - 2.
Saturday 4th September. B&DBA Triples A Team away versus Boscombe Cliff A. A convincing and big win away secured 7th place in the afternoon section 4 league. Rinks 1 - 3. Shots 52 - 96. Points 2 - 12.
Saturday 4th September. B&DBA Triples B Team at Home versus Milford on Sea C. Another good win secured the highly creditable position of 3rd in the morning triples section 3. Rinks 2 - 0. Shots 54 - 27. Points 6 - 0.
---------------------------------
Coming Up Next Week
Tuesday 7th September. Men's Singles Final. Mel Barrett versus Dan Cookman. 3.00pm.
Wednesday 8th September. Handicap Singles Final. Mel Barrett versus Derrick Fulker. 10.30am.
Thursday 9th September. Two Wood Pairs Final. Ted Huggins & Jenny Blake versus Mark Brocklebank & Maureen Huggins. 1.00pm.
Saturday 11th September. NFBA League Trophie's Finals Day at Ringwood Bowling Club.
11.00am. Ringwood Shield. New Milton A or Verwood versus West Moors.
3.00pm. President's Trophy. Braeside v Ringwood
Sunday 12th September. B&DBA Finals Day at Bournemouth B.C., Meyrick Park. 10.30am start. (Featuring the all Ringwood Triples Final, Ted Huggins, Richard Thomas & Dan Cookman versus Geoff Bell, Derick Faulkner & Derrick Fulker. 10.30am)
---