News
All these items of news are displayed in publication date order with the most recent at the top...
Debbie Senior and Barry Vaughan both attended a recent online course on Adult Safeguarding in Bowls run by the Coach Bowls organisation.
They are now both qualified and have this Adult Safeguarding aspect of coaching added to their Bowls Coaching credentials.
Congratulations and Thank You to both Debbie and Barry for adding this particular string to their bows which will be very helpful for our potential and present players.
---
Our club took another step out of the current crisis today with 18 players venturing to Boscombe Cliff to accept their lockdown challenge. The event was very well organised indeed by the host club and thanks must go to them for their hospitality. The green was also in very good condition and a pleasure to play on. Their organisational skills didn't quite extend to the weather but at least we didn't get too wet.
The format of the challenge was 3 sessions of 5 pairs games, each game comprising of 2 sets of 8 ends, 2 points for each set, 1 for a draw.
The session scores were:-
Session 1 Ringwood 9-11 Boscombe
Session 2 Ringwood 12-8 Boscombe
Session 3 Ringwood 18-2 Boscombe
Total Ringwood 39-21 Boscombe
The first 2 sessions were very tight and we did well to take the smallest of leads into the third sessions. There were notable performances from Mavis and Brian who won both their Mixed Pairs sets comfortably and from Allan and Fred who came back from 0-8 down after 5 ends to snatch a point in their Any Pairs game.
The final session proved decisive. All 10 of our bowlers doubled up in that session. Overall I think our comparative level of experience combined with all having played a game saw us take control of this session, winning 9 out of 10 sets. Special mention to Den and Derrick who took the final set of the Mens Pairs against very strong opposition after they had been press-ganged into action.
Overall it seemed as though the day was a success and generally a positive experience. Many thanks to our hosts, thank you to our members for supporting the day, and we can look forward to the return fixture on 1st August. '
Pete
---
Volunteers are required for the cutting of hedges around the perimeter of the bowling green and car park.
This work is to take place on Wednesday 8th July between the hours of 08:30 and 12:30.
Your help will be greatly appreciated.
If you are able to help, please let Dave Lewis know so that he can plan the work.
You can contact Dave by Phone: 01425 470720 or Mobile: 07914 622668
Thank You.
---
Debbie Senior has asked me to send out this communiqué.

Barrie Horne, our erstwhile President, Club Captain and Honorary Life Member has been diagnosed with Parkinson's and Alzheimer's and as a result of these two crippling illnesses, Barrie has sadly had to say goodbye to bowling.
If it were not for the current situation, I would suggest we get together at the club and have a drink with Barrie while we still can but sadly that is not the case. There is nothing Barrie would like more than to be at RBC with a room full of people to talk with.

However, you can still speak to Barrie and Barbara but it may a little difficult at times due to his condition.
I personally will miss Barrie and his lovely partner Barbara and wish them well at this time.
Debbie
---
It is with great sadness that I have to report that Brian Harrington's partner, Maureen passed away last Saturday.
Brian and Maureen were together for nigh on ten years and had a very happy relationship during their time together.
Although Maureen was not a regular visitor to the club she will be fondly remembered by those who met and new her.
Our thoughts and our deep condolences go out to Brian and Maureens family, at this most difficult of times.
---
Paul Wright forwarded on this alternative singles game from the Twittersphere.

You might like to try it, for yourself, during this Back To Bowls period. Enjoy!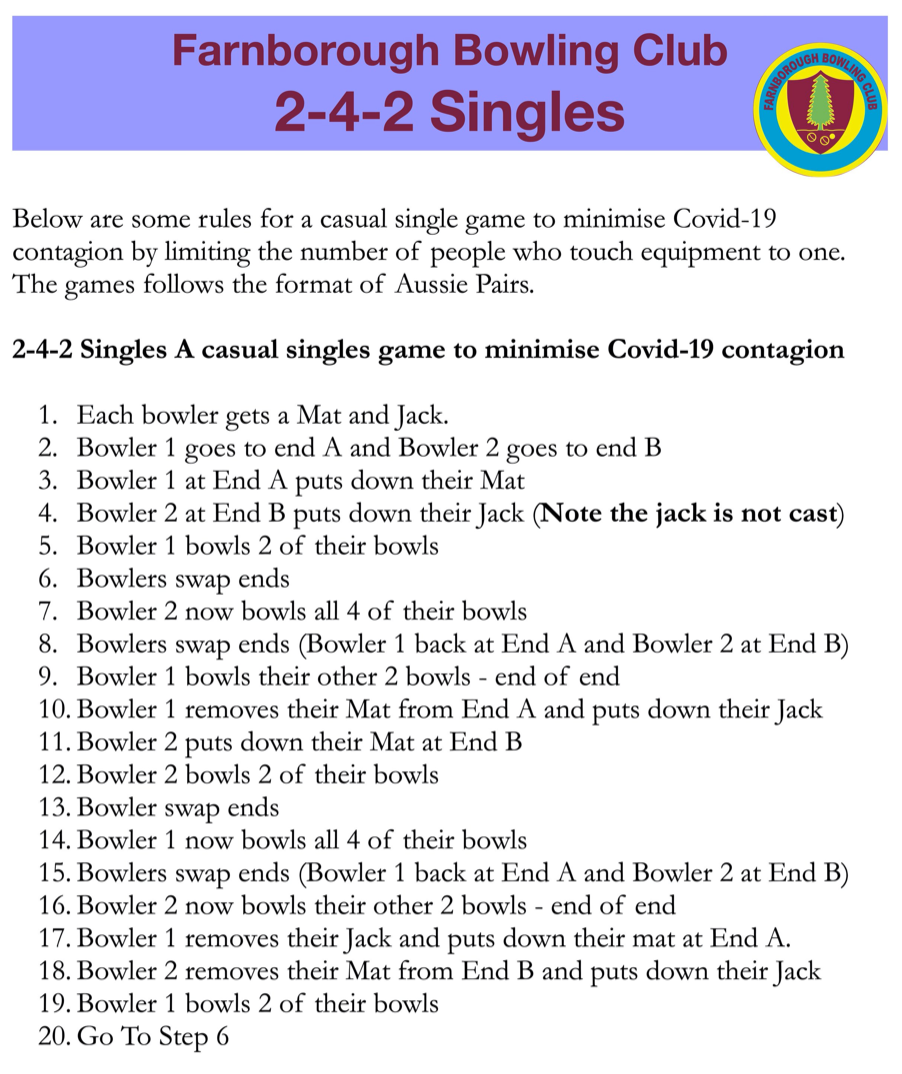 ---