News
All these items of news are displayed in publication date order with the most recent at the top...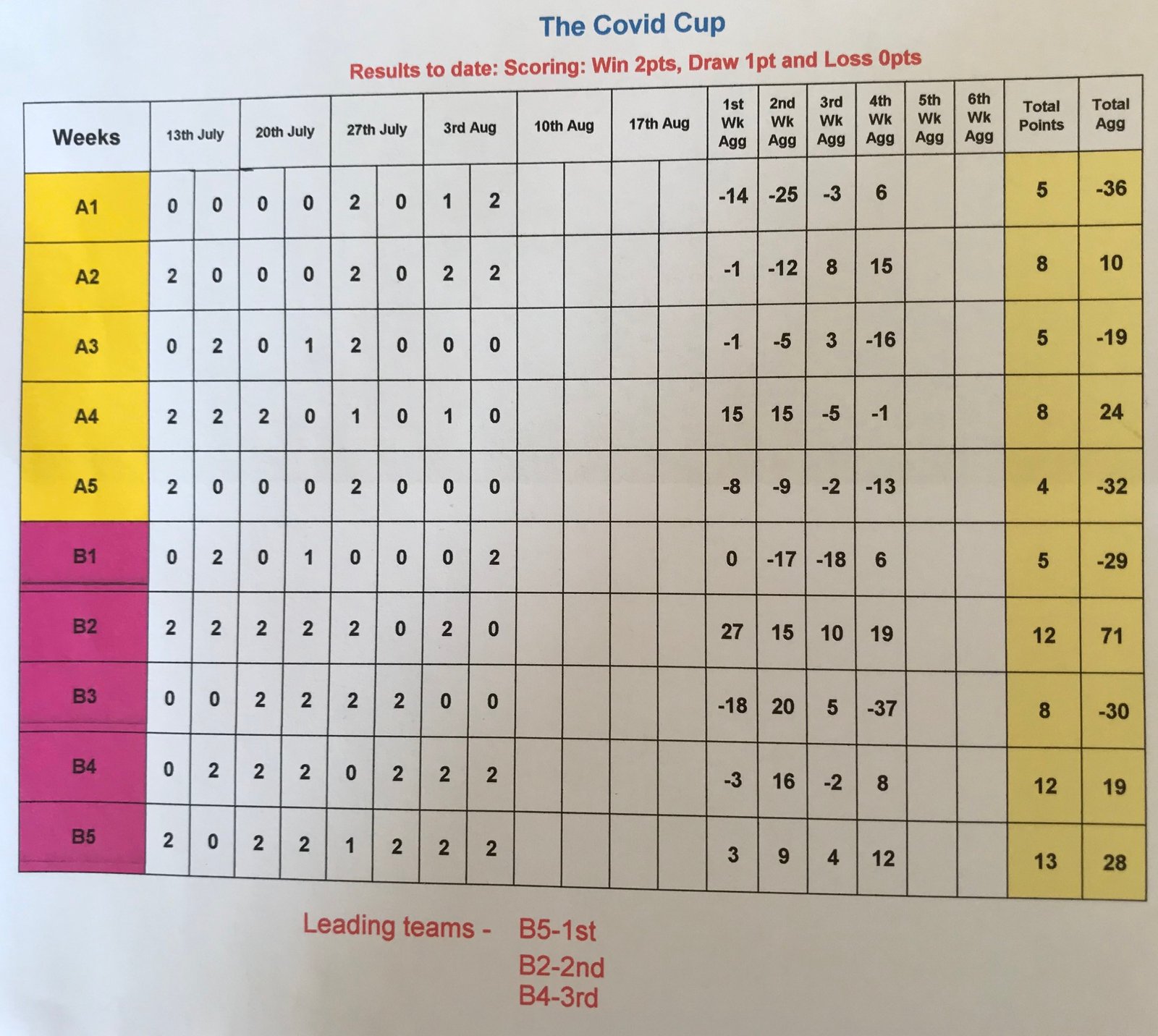 ---
Last night, Ringwood got off to a fine start, negotiating their way through the 1st Round, with victory over Braeside by 57 shots to 42.
At Home, the rink score was 1 each in a close match that saw Ringwood run out victors by only 4 shots.
Away, both rinks were won with Ringwood taking the spoils by 11 shots.
The second round match will be against Fordinbridge, next Tuesday, 11th August at 6.00pm.
---
The return match turned out to be a very successful day for Ringwood.
Many thanks to all who took part with special thanks to the same few who worked so hard to make it possible. I won't name them, we all know who the same few always are. Many thanks again.
The weather was kind and the green was superb with special thanks Paul.
This time there were only two sessions of Pairs matches which Ringwood managed to win 12-8.
Lots of very good performances with too many to mention. However, I will point to two performances that stand out.
Derick & Den won one of there sets 19-0.
The outstanding performance of the day came from Anne Taylor & Brian Harrington (AKA Harry) who drew one set all against Boscombe's top man & top lady players.
Thanks again to all of you.
Kind Regards
Mike.
---
---
It is with great sadness that I have to report that we have lost two well loved members of our club this past week.

Roger Green passed away on Tuesday 14th July. Our deep condolences go out to Roger's wife Mari, brother Ken, their family and friends.

Mel Jones passed away on Saturday 18th July. Our deep condolences go out to Mel's wife Susan, niece Sue, their family and friends.

They will both be sorely missed and our thoughts and best wishes go out to both families.

I will post details of funeral arrangements when known.
---
Debbie Senior and Barry Vaughan both attended a recent online course on Adult Safeguarding in Bowls run by the Coach Bowls organisation.
They are now both qualified and have this Adult Safeguarding aspect of coaching added to their Bowls Coaching credentials.
Congratulations and Thank You to both Debbie and Barry for adding this particular string to their bows which will be very helpful for our potential and present players.
---
Our club took another step out of the current crisis today with 18 players venturing to Boscombe Cliff to accept their lockdown challenge. The event was very well organised indeed by the host club and thanks must go to them for their hospitality. The green was also in very good condition and a pleasure to play on. Their organisational skills didn't quite extend to the weather but at least we didn't get too wet.
The format of the challenge was 3 sessions of 5 pairs games, each game comprising of 2 sets of 8 ends, 2 points for each set, 1 for a draw.
The session scores were:-
Session 1 Ringwood 9-11 Boscombe
Session 2 Ringwood 12-8 Boscombe
Session 3 Ringwood 18-2 Boscombe
Total Ringwood 39-21 Boscombe
The first 2 sessions were very tight and we did well to take the smallest of leads into the third sessions. There were notable performances from Mavis and Brian who won both their Mixed Pairs sets comfortably and from Allan and Fred who came back from 0-8 down after 5 ends to snatch a point in their Any Pairs game.
The final session proved decisive. All 10 of our bowlers doubled up in that session. Overall I think our comparative level of experience combined with all having played a game saw us take control of this session, winning 9 out of 10 sets. Special mention to Den and Derrick who took the final set of the Mens Pairs against very strong opposition after they had been press-ganged into action.
Overall it seemed as though the day was a success and generally a positive experience. Many thanks to our hosts, thank you to our members for supporting the day, and we can look forward to the return fixture on 1st August. '
Pete
---
Volunteers are required for the cutting of hedges around the perimeter of the bowling green and car park.
This work is to take place on Wednesday 8th July between the hours of 08:30 and 12:30.
Your help will be greatly appreciated.
If you are able to help, please let Dave Lewis know so that he can plan the work.
You can contact Dave by Phone: 01425 470720 or Mobile: 07914 622668
Thank You.
---