News
All these items of news are displayed in publication date order with the most recent at the top...
Volunteers are required for the cutting of hedges around the perimeter of the bowling green and car park.
This work is to take place on Wednesday 8th July between the hours of 08:30 and 12:30.
Your help will be greatly appreciated.
If you are able to help, please let Dave Lewis know so that he can plan the work.
You can contact Dave by Phone: 01425 470720 or Mobile: 07914 622668
Thank You.
---
Debbie Senior has asked me to send out this communiqué.

Barrie Horne, our erstwhile President, Club Captain and Honorary Life Member has been diagnosed with Parkinson's and Alzheimer's and as a result of these two crippling illnesses, Barrie has sadly had to say goodbye to bowling.
If it were not for the current situation, I would suggest we get together at the club and have a drink with Barrie while we still can but sadly that is not the case. There is nothing Barrie would like more than to be at RBC with a room full of people to talk with.

However, you can still speak to Barrie and Barbara but it may a little difficult at times due to his condition.
I personally will miss Barrie and his lovely partner Barbara and wish them well at this time.
Debbie
---
It is with great sadness that I have to report that Brian Harrington's partner, Maureen passed away last Saturday.
Brian and Maureen were together for nigh on ten years and had a very happy relationship during their time together.
Although Maureen was not a regular visitor to the club she will be fondly remembered by those who met and new her.
Our thoughts and our deep condolences go out to Brian and Maureens family, at this most difficult of times.
---
Paul Wright forwarded on this alternative singles game from the Twittersphere.

You might like to try it, for yourself, during this Back To Bowls period. Enjoy!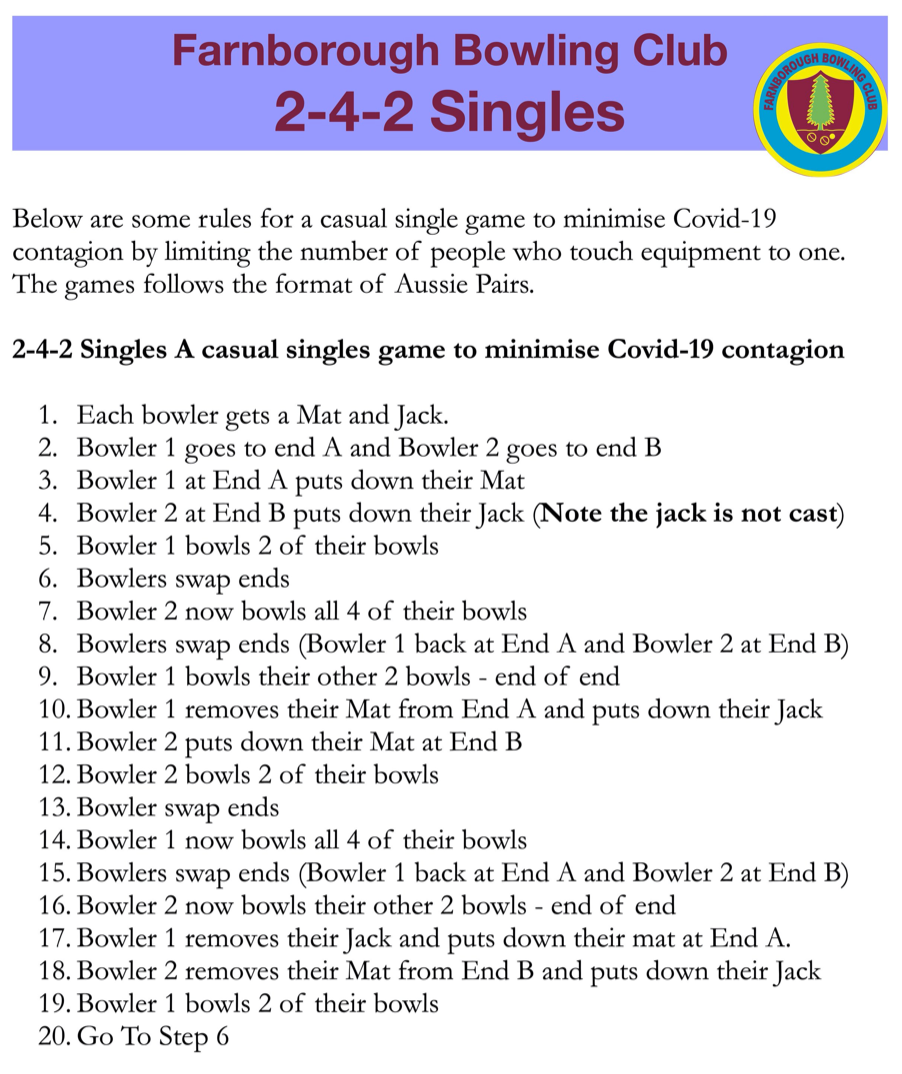 ---
The Green-Keeper, Paul Wright has allocated the playing rinks for the month of June.
You can download Rink Allocations - June.pdf by clicking on the file name.
---
I take great delight in announcing that the Green will open on
Please refer to the document, ' Back To Bowls Guidance Issue 1 _ 20-05-25.pdf '
which details how you can go bowling. To download the document click on the file name.

Only six players are allowed on the green at any one time.
You can only go bowling by making a booking. The details of how to do this are in the document.

I will be taking bookings from 12.00pm on Thursday 28th May. This is to make sure that Members who will be receiving this communication by post will not be disadvantaged.

If you have problems downloading or opening the document please contact me by replying to this email or contact me on 07763 012780.

Stay Safe and Well

Kind Regards

Allan Mason
General Secretary
---