News
All these items of news are displayed in publication date order with the most recent at the top...
The Green-Keeper, Paul Wright has allocated the playing rinks for the month of June.
You can download Rink Allocations - June.pdf by clicking on the file name.
---
I take great delight in announcing that the Green will open on
Please refer to the document, ' Back To Bowls Guidance Issue 1 _ 20-05-25.pdf '
which details how you can go bowling. To download the document click on the file name.

Only six players are allowed on the green at any one time.
You can only go bowling by making a booking. The details of how to do this are in the document.

I will be taking bookings from 12.00pm on Thursday 28th May. This is to make sure that Members who will be receiving this communication by post will not be disadvantaged.

If you have problems downloading or opening the document please contact me by replying to this email or contact me on 07763 012780.

Stay Safe and Well

Kind Regards

Allan Mason
General Secretary
---
Due to the current advice regarding Coronavirus, COVID-19, the Management Committee have decided to CANCEL the following forthcoming events:-

Friday 27th March. Spring Social Evening at the Elm Tree.
Friday 3rd April. Club Special General Meeting.
Friday 3rd April Club Spring Meeting.

With regard to playing the game of Bowls after the Green Open date, we will make further announcements based on any advice and direction received from the controlling bodies. i.e. Bowls England, Bowls Hampshire, the Bournemouth & District and New Forest Associations.
---
Requested by Paul, we can now embed video into our website
GIVE IT A TRY
---
John's funeral is all set for February 28th at 12.30pm in Ringwood Cemetery.
The Humanist service will be conducted at the graveside.
All are welcome to attend.
More detail will appear in the Ringwood and Fordingbridge News but the next one will not be published until February 19th/20th.
The address is:

Ringwood Cemetery Address:
Hightown Road,
Ringwood,
Hampshire
BH24 1NH

I don't have more detail about continuation after the service.
---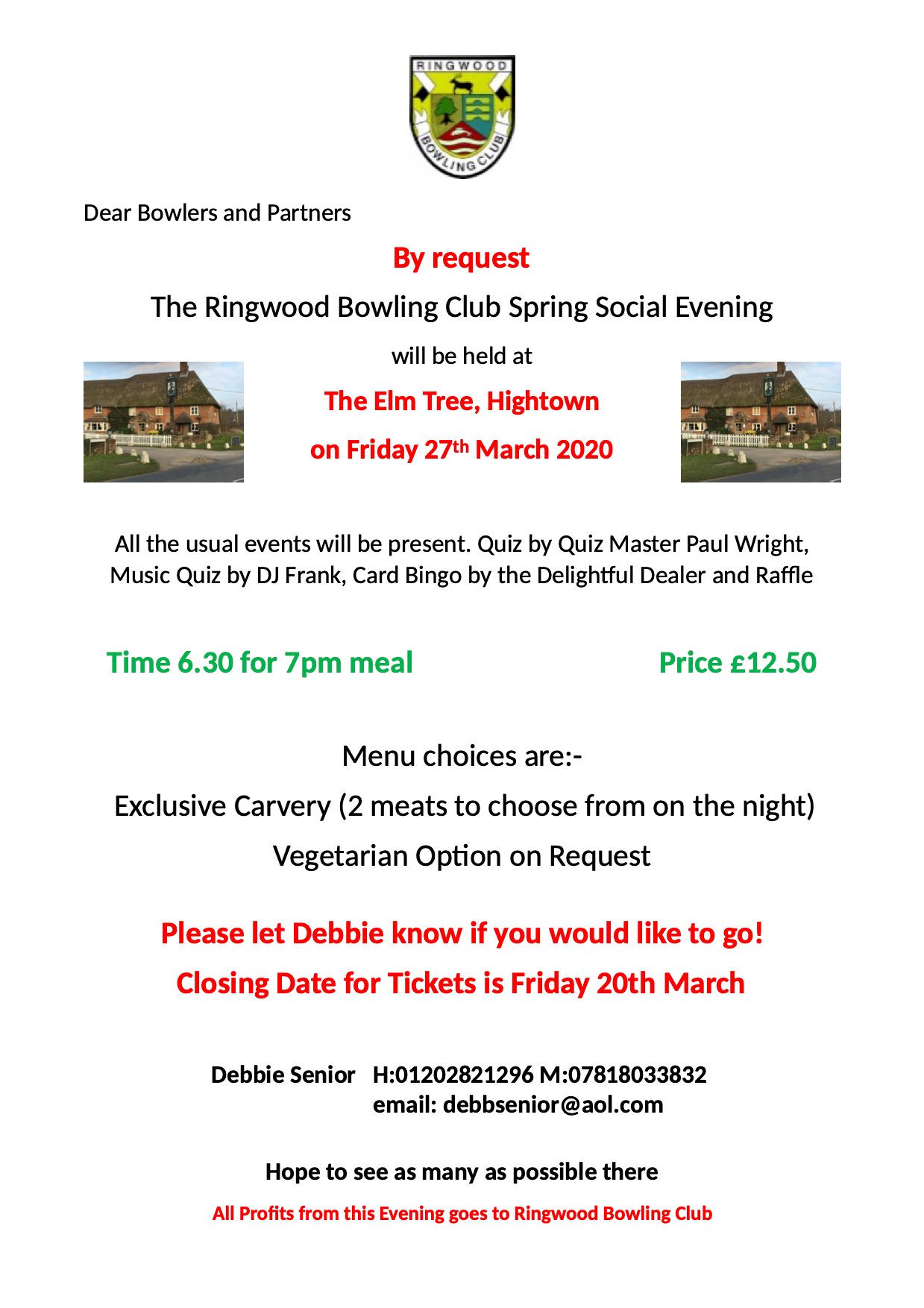 ---