News
All these items of news are displayed in publication date order with the most recent at the top...
Don't forget the AGM is taking place on Friday 1st November at the Clubhouse.
Please make sure you arrive by 6.30pm for a 7pm start.
If you have any issues you want to raise under Any Other Business, please let the Secretary, Anne Taylor, know by Friday 25th October. You can contact her on 07593 707626.
---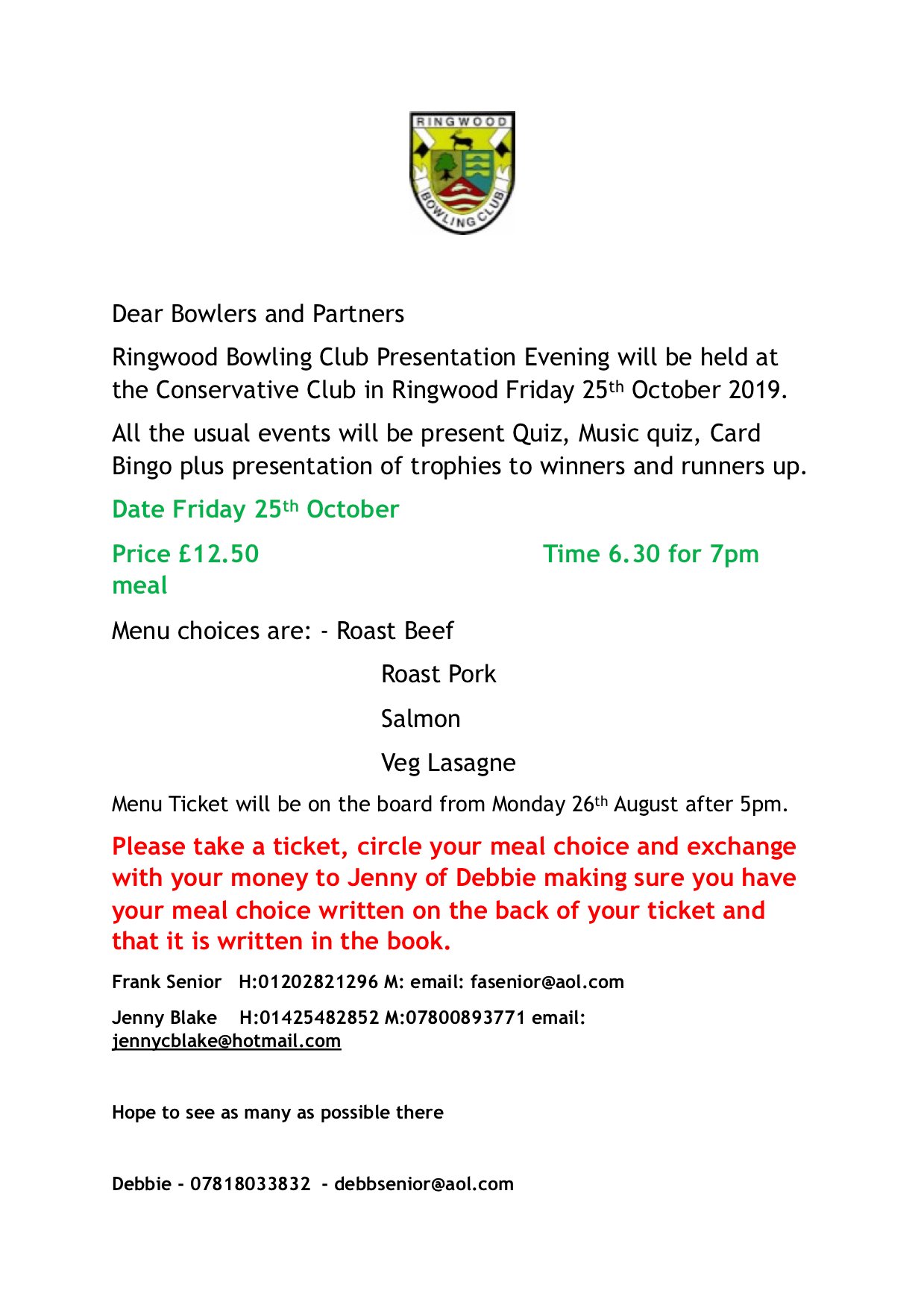 ---
Dave's wife Sue has requested that members attending Dave's funeral arrive at the crematorium by 10.45am.
Also, as Dave was not a suit and tie man, Sue would prefer informal/casual wear at the funeral.
A reminder that Dave's funeral will take place at Bournemouth Crematorium on Friday 18th October at 11.00am and then afterwards at The London Tavern, Poulner.
Allan
---
Following on from the Ditch Clearing last week, volunteers are now required for the final Hedge Trimming Work Party of the year.
Please come along on Tuesday 15th October from 9.00am and lend a hand.
If you can come along and help or have any queries, please contact Dave Lewis on 07914 622668.
---
It is with great sadness that I have to report that Dave Smith passed away on on the 26th September after a long period of illness. Dave was a renowned bowler at Ringwood as well as at other clubs and was very active in running affairs at Ringwood, latterly as Secretary and also as 2nd & 3rd Teams Captain. He will be very much missed and our deep condolences go out to Sue and all his family and friends.
Dave's funeral will take place at Bournemouth Crematorium on Friday 18th October at 11.00am and then afterwards at The London Tavern, Poulner.
I apologise for not posting this news earlier. Internet and phone connection issues, whilst on holiday, haven't helped.
---
---
Following the closure of the green this coming Sunday, volunteers are needed for Ditch Clearing on Wednesday 2nd October from 9.00am.
If you can come along and help or have any queries, please contact Dave Lewis on 07914 622668.
---
For me, the three most significant factors that made it such an enjoyable season are, in no particular order:-
The need to don the wet gear on only a very few occasions during the season.
The magnificent Green prepared and maintained by Paul.
The Camaraderie and Dedication within the Club.
You will most likely have in mind one event that stands out in your memory as the most amazing and/or pleasing happening in bowls during the season. Now, we can't all be in the same place at the same time and so, here is mine.
At the beginning of the season I purchased a set of woods, which were of my preferred size and also a bowls trolley bag. It was only a short time before I took delivery of them that I found out that this was our dear departed Dennis Seymour's bowls kit. I decided, as the woods were of tighter line than mine, not to use Dennis's old red woods on grass and save them for indoors, on carpet. Come early August it was my one and only visit to Braeside to play on their carpet. So, I decided to use the red woods and they played so well that together with Fred Alderman and Barry Vaughan we won our rink 13-8. I was so pleased with the results that it could be, hopefully, that Dennis's accuracy and acumen may have rubbed off on me.
Club Finals Day
> >
Despite the heavy rain in the morning and the odd heavy shower in the afternoon, the Club Finals Day was enjoyed by both players and spectators alike. There were some exciting matches and a very good standard of bowling was maintained during the difficult conditions.
Click on the picture for the gallery of the Club Finalists
Unfortunately, the Men's Singles Final didn't take place. Lee Croad takes the title due to a walkover as, unfortunately, his opponent couldn't take part on the day.
Many thanks to Doug Jones for organising and running the event on the day and also to his helpers.
Earlier in the week on Monday, the Bingo Night was a great success. The well supported event was also attended by the late Dan Davies's family members. After a short speech, Doug Jones revealed Dan's framed cap which now has pride of place in the clubhouse. Well done to Debbie and Frank Senior and Jenny Blake for organising and running the event on the night.
Résumé of Ringwood Bowling Club's League Performances in 2019
Click on the coloured Team Names below to see results and final League positions.
Tuesday afternoons. NFWBA Ladies' 1st Team. The great start to the season, with five wins from the first six games, didn't carry through for the rest of the season. However, a good overall result in the end finishing in 3rd place, only by one point, behind runners-up, New Milton.
Tuesday afternoons. NFWBA Ladies' 2nd Team. Ending up 3rd from bottom in the League belies the teams performance during the season. Having finished on the same number of points, 35, as three other teams, another five shots in Ringwood's favour would have seen them in 3rd place.
Tuesday evenings. NFBA Men's 1st Team. Another great year for Ringwood's Top Team. Losing only two matches and drawing one saw the Team crowned Champions, for the second year running, with two matches to be played.
Tuesday evenings. NFBA Men's A Team. It was a tough year for the 'A' Team. Having gained promotion last season, It's straight back down to Division 3 having finished on the bottom of the table.
Thursday afternoons. B&DWBA Ladies' Team. A Great summer for the Ladies. An exciting run-in at the end of the season, winning their last four matches by 20 points to 4, resulted in Promotion to Division 'B' via the Runners-Up position.
Thursday evenings. NFBA Men's B Team. Likewise for the Men's 'B' Team. Solid performances during the whole season, losing only two matches, secured the Runners-Up position and promotion to Division 3. Next year, we look forward to the Ringwood 'A' v Ringwood 'B' and vice versa matches.
Saturday afternoons. B&DBA Men's 1st Team. In their last game, having inflicted the only defeat of the season on the runaway leaders Boscombe Cliff, the scoreline of 10-4 was not quite enough to secure the runners-up position. However, the late run of five wins from the last six matches resulted in 3rd place.
Saturday afternoons. B&DBA Men's A Team. Likewise for the 'A' Team. After a good start, the late rally at the end of the season lifted them into 3rd place which was secured by a good enough performance against Braeside to finish only one point in front of Swanage.
Saturday afternoons. B&DBA Triples B Team. A similar story for the 'B' Team. After a poor start to the season the late rally of six wins in a row, 32 points to 4, enabled the 3rd place finish, one point above Boscombe Cliff 'C'.
Coming Up for the Rest of the Year
Saturday 5th October. Ladies' AGM. 9.30am for 10.00am start.
Friday 25th October. Presentation and Social Night. Conservative Club. 6.30pm for 7.00pm.
Friday 1st November. Club AGM. 6.30pm for 7.00pm.
Thursday 14th November. Ringwood Brewery Guided Tour. 6.30pm.
This is the last regular Weekly Bulletin for this year. However, I will keep you up to date with what's happening within the Club regarding meetings, social events and any newsworthy items that come up.
Have a Good Winter and see you next Summer.
Allan
---