News
All these items of news are displayed in publication date order with the most recent at the top...
> >
There was a debut performance on the Green today.
Paul was pictured taking his new toy, a Toro Procore 648 aerator, for it's maiden spiking escapade.
The worms were not amused
The Gallery of photos can be viewed by clicking on the picture opposite.
---
It is with great sadness that I have to report that we have lost another well loved member of our club.

Bryan Tanner passed away on Saturday 23rd January after having been admitted to hospital, sometime earlier, having contracted Covid-19.
Our deep condolences, thoughts and best wishes go out to Bryan's wife Sandra, their family and friends.

Bryan joined Ringwood Bowling Club in 2017 having been a stalwart member of Verwood bowling club for many years. He had a great impact playing for Ringwood in both the Bournemouth and New Forest leagues, Ringwood competitions and representative matches.
He will be sorely missed by our members and also those of Verwood Bowling Club.

I will post details of funeral arrangements when known.
---
Some of our members may remember Gordon Stanley Wakefield.
He was a member of Ringwood Bowling Club many years ago and played to a great age.
It is with great sadness that I have to report that he passed away on Christmas Day at the ripe old age of 94.
He will both be sorely missed by his friends at Ringwood Bowling Club and our thoughts and best wishes go out to his family and friends.
---
Following the closure of the green this coming Sunday, volunteers are needed for Ditch Clearing on Tuesday 29th September from 9.00am.
If you can come along and help or have any queries, please contact Dave Lewis on 07914 622668.
---
On the penultimate weekend of the season, glorious weather and great bowling was witnessed by both players and spectators alike.

On the Saturday, 19th, we entertained Southbourne for another round of friendly Aussie Pairs matches. Although the matches were enjoyable, results wise we didn't fare any better than the earlier friendly played in August. As last time, we only won one rink, then drawing two and losing the other three. The overall score was Ringwood 105, Southbourne 132.
Many thanks again to Paul for producing a wonderful, fast green and also to those members who, with their efforts, made it possible to organise and run the event.
Also, a special mention for Anne Taylor, who on her Birthday, put in a mammoth shift of effort to ensure the event ran sweetly. Many thanks Anne.

On Sunday afternoon, The Autumn Triples Final was held between the teams of Debbie Senior, Mel Barrett, John Stone and Anne Taylor, Ed Melton, Richard Thomas.
Congratulations to the Winners, Debbie, Mel and John and also to the Runners-Up, Anne, Ed and Richard.

Many thanks to Doug Jones for organising and running the competition and to all those who took part.

Hopefully next year will be more like a normal bowling season. In the meantime,

Stay Safe and Well
---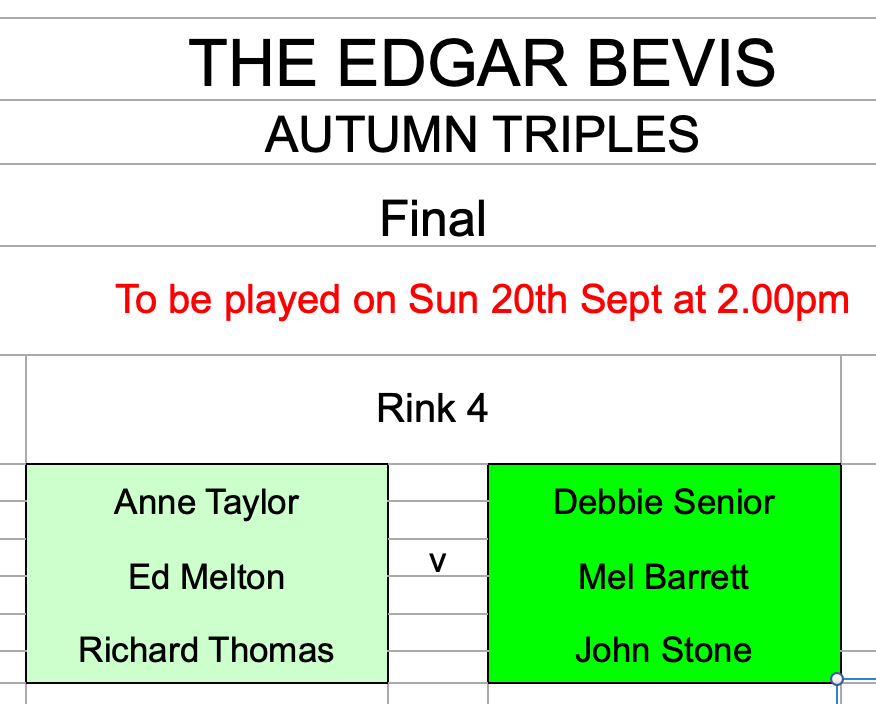 ---