News
All these items of news are displayed in publication date order with the most recent at the top...
Ringwood Bowling Club is hosting the New Forest Women's Bowling Association Coffee Morning on Friday 16th March 2018, starting at 10.00am.
There will be a Raffle, Lucky Egg, Egg Hunt and various table games. Everyone welcome!
Entry fee is £1 (tickets available on the door) to include coffee or tea plus a biscuit – put your name on the back of your purchased ticket for the chance to win a Thornton Easter Egg.
We look forward to seeing as many of you as possible.
Samples of the new Club Team shirts will be available to try on for all League players after lunchtime tomorrow (Saturday 27th January). Anne will leave details on how to provide information concerning the size of shirt required.
Many congratulations to Derick Faulkner, Mel Barrett, Mike Whelan, Barrie Seymour and Doug Dalrymple, who were presented with their respective awards at the recent NFBA presentation ceremony. Pictures thanks to Audrey Barrett; click each one to see a full version.
> >
More congratulations to Sharon Varndell for winning the Lilian Lynex Trophy. Here she is at the B & D WBA presentation yesterday, receiving the cup!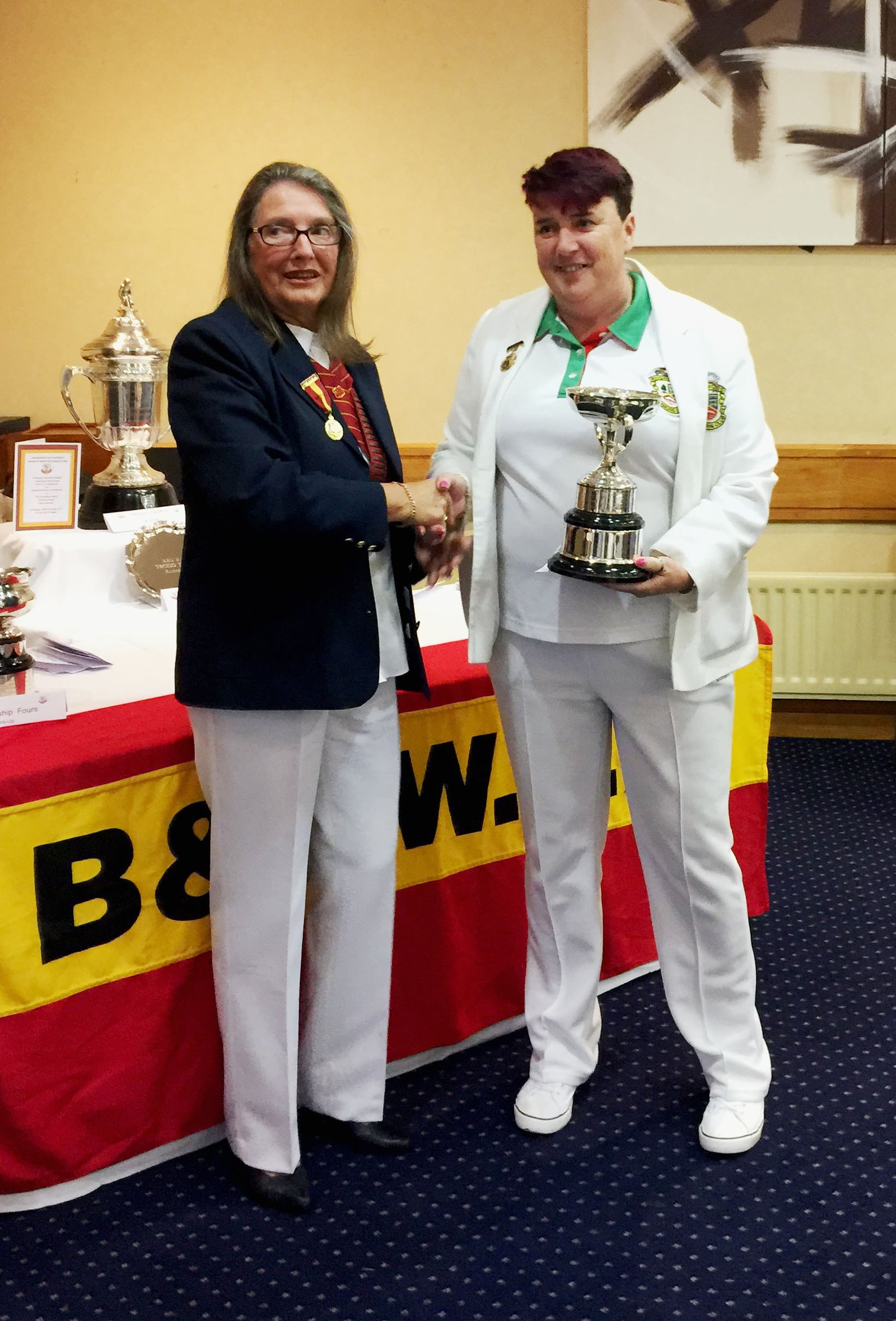 Our New Forest League team, Ringwood B, played Lymington in the final of this Trophy on a bright and sunny morning at the end of the season recently. After an even start on all four rinks, Ringwood soon found themselves behind on all four rinks and, at the halfway point, looked to be out of it. Suddenly, the pendulum swung the other way and we were back in the game with a chance.
Ringwood carried the momentum on and, at the end, were drawing on one rink, winning on two and, behind on the last rink, went into the last end needing to get just one shot to win overall. There followed some superb bowling resulting in a really close head. Finally, however, Ringwood held the all-important shot and victory was secured.
Team Captain, Doug Dalrymple, said he was extremely proud of the team's brilliant performance and wanted to thank all the players who took part in the whole tournament.
Well done, lads!
Here are a couple of pictures of the victors. Not quite ready on the left, official photo on the right!
On Tuesday 12th September, Ringwood Ladies held their foutth Triples event. We have come a long way in that time. From the humble beginnings where we had to supplement our teams with the gentlemen that had turned up for a roll up in 2013 to 30 ladies all in whites and ready to play all day in 2017.
We lost to Verwood in year one. We lost to West Moors in year two but in year three Ringwood Ladies won with Sue Wyatt as skip, Debbie Senior no. 2 and Mavis Hammond as no.1. Unfortunately, year four was not to be for Ringwood either. The finalists were Highcliffe and New Milton with New Milton becoming the winning team.
Everyone joined in the spirit of the day which was competitive but fun. The general comments were what a super day it was and how nice not to be playing under the pressure of a league match. We were also very lucky with the weather. Sunshine all the way except for a slight drizzle during the semi final.
Medals were awarded for the runners up and the winners everyone else had to make do with raffle winnings, a lovely lunch, superb cakes (supplied by Mary MacArthur, Audrey Merrington, Helena Webber, Sue West and Celia Cheadle) and prize money of £12 to Margaret Whale of New Milton.
We are looking forward to another lovely Triples day in 2018.
£109 was raised for the local PDSA mostly as a result of the fabulous raffle.
Grateful thanks are due to the helpers who gave up their time to administer the scoring (Frank Senior), timing (Dave Lewis) and kitchen (Judy Lewis). The picture below was taken just before lunch.
Many congratulations to the ladies of Ringwood 1 and 2 in the New Forest 'C' League. Ringwood 2 finished champions with Ringwood 1 runners-up! This is a marvellous advertisement for ladies bowlng at the Club and a fitting tribute to the dedication and hard work of the members of both teams. Well done to you all!