On Wednesday 15th September, the Autumn Triples Final was eagerly contested. In this closely fought match, Frank Senior, Chris Pentelow and Doug Dalrymple took the lead for the first time, by one shot, after 12 ends. Alan Boyt, Chris Dalrymple and Brian Harrington then fought back to take the last four ends to win by 18 - 11. Congratulations and well played to all.
---------------------------------
On Friday 17th September, Helen Blackiston, Jenny Blake, Chris Pentelow and Debbie Senior made up a rink, playing for West Hampshire, in the Dolly Gore competition played between the four divisions of Hampshire. In the morning, West Hampshire beat North Hampshire with the Ringwood Ladies rink winning 19 - 18. West then played South but despite our Ringwood Ladies rink winning their rink 20 - 11, South won over all and took the cup for first place with West taking the cup for second place. East were third and North won the wooden bowl for fourth.
---------------------------------
On Saturday 18th September, Derick Faulkner, Derrick Fulker and Steve Van Wyk played a trio from Alexandra Bowling & Social Club of Portsmouth in a Semi Final of the Bowls Hampshire Two Wood Benevolent Triples competition. Played at Southbourne Bowling Club the match was closely fought but Alexandra came out winners by 18 - 8, to progress to the Final.
---------------------------------
Also on Saturday, Mark Brocklebank and Dan Cookman played for Hampshire versus Sussex in the Home Counties Final at Egham in Surrey. Sadly, Hampshire lost by 3 shots. Mark's rink lost by 1 shot and Dan's rink were all square.
---------------------------------
Following the Great Success of the two New Forest Bowling Association Final's Days, held at Ringwood, the following letter was presented to the Ladies and is posted on the Club Noticeboard.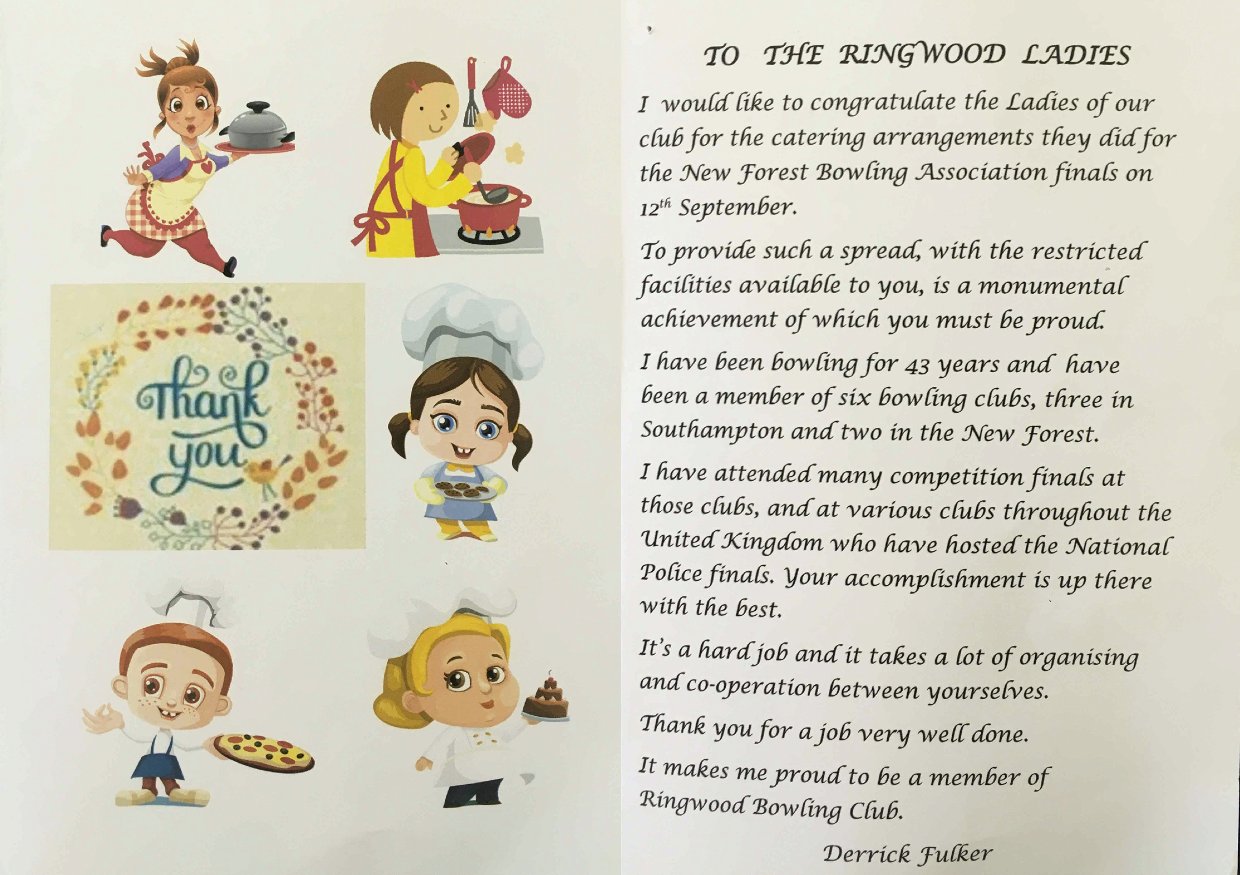 The main facets of the success of both events was down to the fabulous green presented by Paul and Mel, the superb catering by Helen Blackiston, Audrey Merrington, Debbie Senior, Anne Taylor & Jenny Blake and the all day bar by Brian Harrington. Also, a big thank you to all the other helpers who were instrumental in setting up before, helping during and taking down after the events.
A BIG, All-ROUND, WELL DONE TO RINGWOOD BOWLING CLUB
---------------------------------
Events Coming Up
Thursday 23rd September. Management Committee Meeting. 6.00pm.
Sunday 26th September. The Green closes at 5.30pm.
Monday 27th September. Short Mat starts. Setting Up from 9.00am.
Saturday 16th October. Ladies Section AGM. 10.00am.
Friday 22nd October. Presentation & Social Evening at The Elm Tree. 6.30pm for 7.00pm. NB. Monies to Debbie Senior by 15th October.
Friday 5th November. Club Annual General Meeting. 6.30pm for 7.00pm start.
Sunday 7th November. NFBA Presentation Lunch. South Lawn Country House Hotel, Lymington. 12.30pm for 1.00pm.
Monday 8th November. NFBA AGM. Brockenhurst Bowling Club.
Monday 15th November. Bingo Night, including Soup and Roll. 7.00pm start.
This is the last regular Weekly Bulletin of the year but keep looking out for News Items and email notifications throughout the rest of the year and winter. See you next season if not before.
---